I'm taking my message about how to protect yourself from Emotional Predators on the virtual road. My virtual book tour starts Monday, Sept 9 and goes through Thursday, Sept 26.  It will include some interesting and helpful guest blog posts from me, and an eye-opening interview, so check it out!  (Scroll down for a link to the schedule.)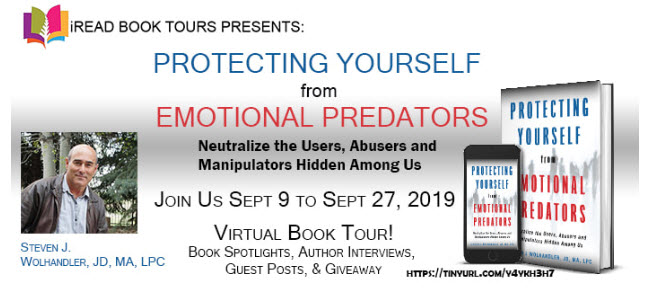 If you're not familiar with a virtual book tour, here's what they're all about: every day, my book, Protecting Yourself From Emotional Predators, will be featured on a different blog site that focuses on books and readers. Some of those sites will include the interesting and helpful short guest articles from me.  One will have the interview.  Most of those sites will also enter readers in a giveaway of the following prizes:
3 Kindle copies of Protecting Yourself from Emotional Predators
A $25 Amazon gift card
A free, 30-minute consultation with me about how to deal with the Emotional Predator in your life. (This consultation is via phone or Skype and is transferable.)
I'll be "dropping in" at every blog stop on the tour to answer any questions.  So check out the different sites on the tour and get entered to win one of the giveaways!

Click here to check out the tour schedule